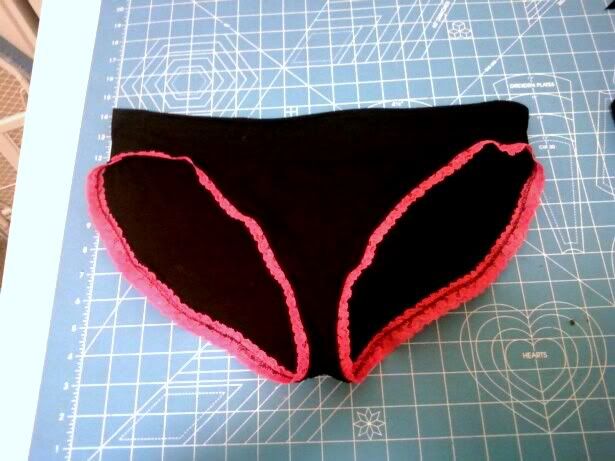 These are from Ottobre 5/2009 pattern 2A the simply basic underwear in bikini style cut.
I did the pattern in size 48 (European sizing)
I used a basic black stretchy knit fabric i had laying around in my stash for ages and some gorgeous stretch lace from
Sew Sassy Fabrics
It's very pretty and soft and i love the bright color to contrast with the black.
The instructions were very
easy to follow although having never made underwear before I didn't quite understand the gusset instructions. I found a great diagram of how to do it
here
This made them much more comfortable and look very professional and finished on the inside.
I love the pattern it fits me perfectly and sewed together quick and easily. The double layer gusset gives a nice protection for the crotch area and i like that the seam are enclosed on it.
Absolutely would recommend this pattern!
I'm actually having my mom and sisters over for a panty sewing party this weekend and we plan to make many more for each of us. These fit so well and are super comfortable!
You should try it you'd absolutely love it!
If you want to see my complete review you can check it out HERE at pattern review.com
Stay posted for the awesome matching camisole top!